Welcome back to Marc's Corner –
As I'd mentioned in my previous post, we are going to discuss the American Housing Rescue and Foreclosure Prevention Act, which in some circles is know as the Bank and Builder Bailout Act.Hmmm, imagine that!
There are many aspects to this bill and for our purposes we will only touch on a few major ones and they'll be discussed in no particular order.The supposed major gist of the bill is to help alleviate foreclosure to many homeowners.The numbers are pegged by the House at 400,000, but this is skeptical at best considering that this is a voluntary measure on behalf of the lenders.
How it would work is that the Mortgage Lender would have to agree to take a loss on the existing mortgage.They would have to reduce the loan balance to 85 percent of the home's current value.A new mortgage would then be written at a lower interest rate and insured by the FHA (Federal Housing Administration).This is all considering that the homeowner will be able to afford this new loan.
Now, this may seem great for the homeowner and I'm all for keeping them in their homes.But, the lender in many cases could be able to recover more money than they would in a costly foreclosure.So here we are possibly helping the lenders who helped create this mess save some money and not penalize them more.Does anyone else have an issue with this concept?
One of the supposed purposes for this bill is to shore up housing prices because they have declined quite a bit in most of the country.This just cannot be the case.The market will correct itself as it has done so in the past.Pricing, as anyone who took Economics 101 knows, is matter of supply and demand.Governmental action can do nothing to change that unless it can reduce supply or increase demand.Just like the Economic Stimulus package could do little to infuse life into the economy.
Another aspect of the bill is to give a tax credit of up to $8,000 for first-time homebuyers who buy a vacant home in the next year.While this is good for our neighborhoods in that a vacant home will now be occupied, I think it creates a great inequity to the home seller who has taken care of their home and paid all of their bills on time.Why should they be made to suffer any more than necessary?The drop in prices, so-called short sales and foreclosures all around them are enough, they need not incur more hardship.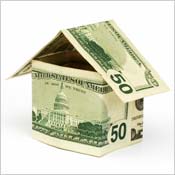 One other item in regard to these proposed tax credits.The bill itself creates a shortfall of over $2B, thus adding more to our deficit.
There are definitely some good things that are coming out of this and some ensuing bills.One is for the establishment of an independent regulator to oversee Fannie Mae and Freddie Mac in addition to their overhaul as well as that of the FHA.It would also provide $4 billion in grants for states and municipalities for rehabilitating foreclosed properties to be used for affordable housing.
Now, this is not all for free to the rescued homeowner, and that is rightly so.They will have to pay a 1½% annual insurance premium and if the home's value increased and they decided to sell or refinance, then they would have to share the profits with the government.This is a concept that was proposed by John Vogel, Jr, a professor at the Tuck School of Business at Dartmouth, that I wrote about in the post, Foreclosure Plan – Is this a Panacea or a Step in the Right Direction?
While this bill may help some, it is not a cure all.
I would like to think that our legislators are doing this to help our fellow man and neighbors, but it's more than likely not and that they are going this route to save their rear ends in an election year.Sad to say but true for too many of them.But then that's a horse of another color.
See you next time at Marc's Corner.